Corderman & Company Supports All Hands Volunteers to Help Rebuild Hope in Houston, TX
Beginning as a tropical storm and fueled by unusually warm Gulf water, Hurricane Harvey made landfall on Friday, August 25, 2017 as a Category 4 "major" hurricane, with wind speeds over 130 mph. Harvey's enormous destructive potential comes as a result of strong winds, torrential downpours, significant storm-surges and devastating flooding. Harvey made a total of three landfalls in Texas, damaging or destroying roughly 185,000 homes and impacting millions of people; 42,399 individuals are reported to be living in shelters. Since the initial landfall, the death toll has risen to at least 70 individuals.
With homes inundated with water from the catastrophic flooding, there is an immediate need for on the ground volunteers to help with debris removal, mucking, and gutting.
WE DECIDED TO SEND A CORDERMAN & COMPANY VOLUNTEER TEAM TO HELP.
Our Corderman & Company volunteer team consisted of Joe Bina (Superintendent), Sean Braley (Assistant Project Manager), and Brian Sunnerberg (Assistant Project Manager). A very special thank you to Joe, Sean, and Brian for graciously donating their time and energy to help our friends in Texas.
The Hurricane Harvey recovery is going to be long and hard; that's why All Hands Volunteers has committed to being on the ground for at least two years, helping families recover from this disaster. Corderman & Company will continue to support All Hands Volunteers efforts in Houston and around the world in any way we can, whether it's from our home in Boston or directly on the ground in disaster locations.
Be sure to check out some photos below, taken by our volunteer team in Houston, and read about Joe, Sean, and Brian's volunteer experiences!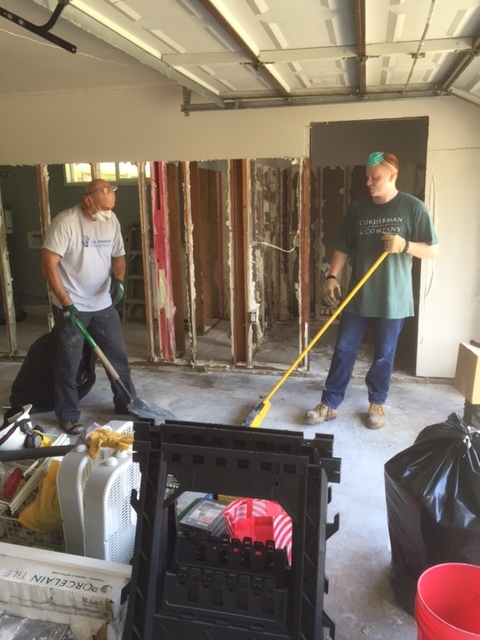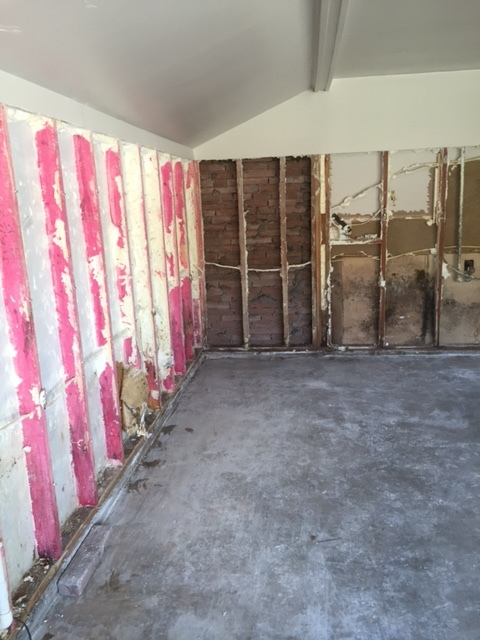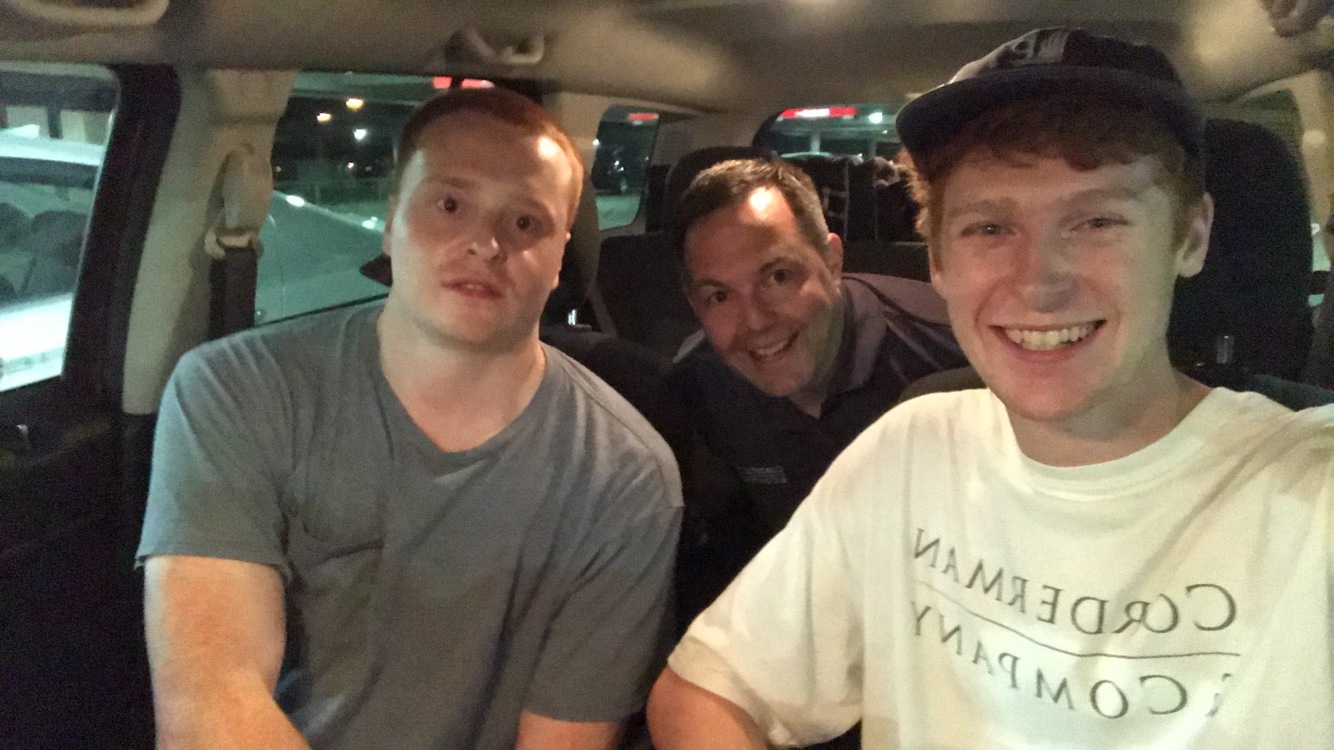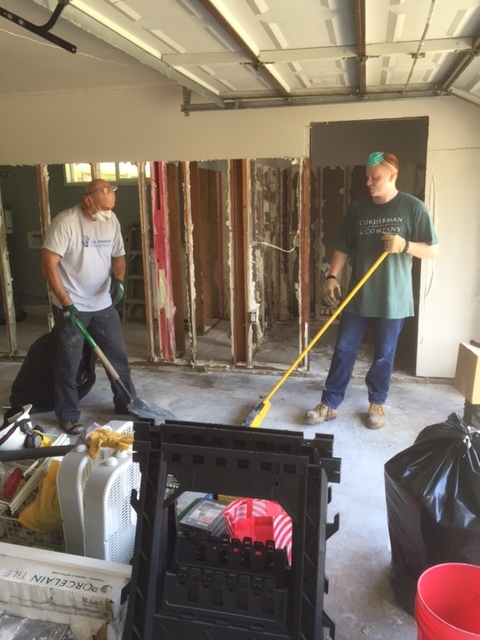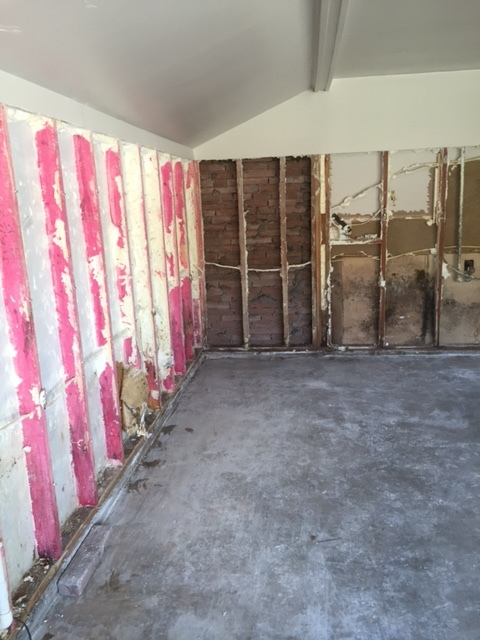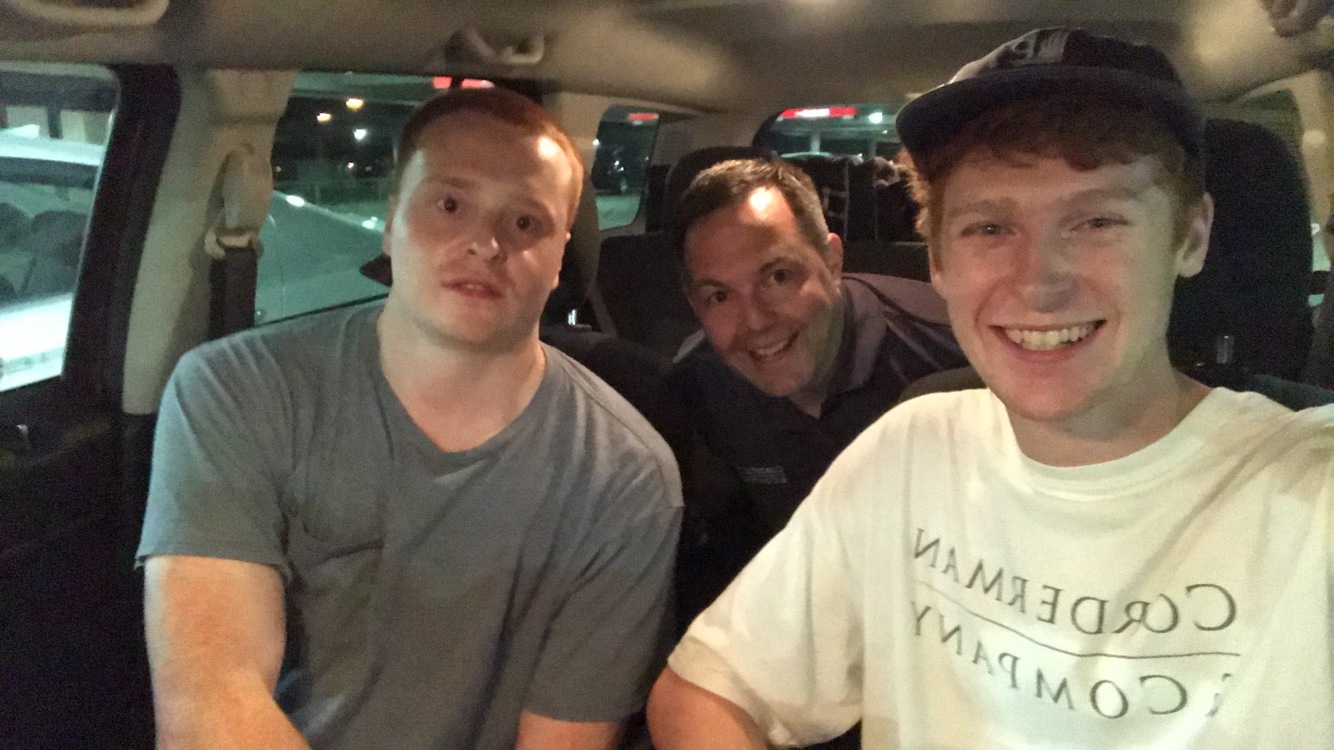 CORDERMAn VOLUNTEER REFLECTIONS
Each day consisted of waking up around 6:30 to get dressed, eat breakfast and pack our lunch for the day. We were broken up into different groups and sent out to different houses that were impacted by Hurricane Harvey. The center we stayed in could hold about 100 volunteers, but there were over 4,000 people on the waiting list to volunteer. My first day was spent with the tool manager, who organized all the tools and equipment for the relief effort. We drove around in a box truck buying more supplies and tools and checking in on worksites that needed more supplies or tools. We had some time at the end of the shift to help one of the work crews with some selective demolition. The next two days I was part of 2 different work crews. The work we were doing consisted of removing damaged drywall, appliances and millwork that was severely impacted by flood damage. Another aspect of our volunteering effort was sanitation and mold remediation. At the end of each work day we would bring our tools back to the conex boxes and head back to the church for showers and dinner. After this we had some free time which we spent getting to know volunteers who came from all over the United States and even some people from other countries. I was truly inspired by the compassionate volunteers I met throughout my time there and was moved by the families who were so blessed to have us helping them in their time of need.
This trip was an incredible experience and I hope I get a chance to work with All Hands in the future.
- Brian Sunnerberg
Thank you to Corderman & Company for the opportunity to travel down to Houston for this very rewarding experience. The houses that I worked in had 4 feet of water and we had to demo all the drywall up to 6 feet. I had to lay out and cut all the walls, demo drywall, and put all the drywall on the sidewalks. Most houses had piles of debris across the sidewalks, as well.
The homeowners were very thankful for all the work that we did. Most of the people volunteering didn't have construction experience so Corderman & Company's presence was extra positive because we were able to give the necessary advice, as well as the much needed hands-on assistance with demo.
- Joe Bina
I worked in two homes over the course of three days. The first belonged to an artist. She only had two feet of water in her home but we had to demo the structure down to the studs and sub floor due to pre-existing mold from past floods. We also demoed her work studio located on the backside of her property. She was able to salvage some belongings and artwork but the majority of it had to be thrown out. The belongings she was able to recover were strewn about her yard, fully exposed to the outdoors.
The second home I worked in was in an affluent neighborhood just outside of Houston. This area received five feet of flood water. All of the homeowner's belongings had been removed prior to our arrival. I assisted in removing drywall and insulation up to seven feet in the garage while others in my group worked inside the house.
All of the removed material was stacked in the front yards of the homes. Trucks with mechanical arms collected the rubbish from people's yards seven days a week. You could tell which homes rubbish had been collected from because the yard was torn and brown. Almost every yard I saw was torn up.
Despite their unfortunate situation, the homeowners were appreciative and I was glad to aid in their recovery. All Hands will be helping rebuild the Houston area over the next two years. If the opportunity arose I wouldn't hesitate to sign up again to help.
- Sean Braley
If you or someone you know might be interested in supporting All Hands Volunteers, please visit: www.hands.org.
Thank you!